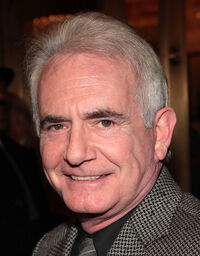 Richard Kline (born April 29, 1944) is an American actor and television director. He is best known for playing the sleazy neighbor and used car salesman, Larry Dallas, on the sitcom, Three's Company.
Richard Kline was born in New York City to Leah Klein. He was raised in Queens by parents who practiced Reform Judaism. He attended Queens College and has a Master of Fine Arts degree in theater from Northwestern University. After he graduated, he served with the United States Army in the Vietnam War.
Kline became involved in theater and made his professional debut in 1971 as part of the Lincoln Center Repertory Company. Regional theater productions during this period included Chemin de Fer (in Chicago with actor Dennis Franz), Death of a Salesman, and Love's Labour's Lost. A classically trained singer, Kline made his Broadway career debut in City of Angels, a musical (1990).
In addition to his television and big screen appearances, Kline has hosted three game show pilots, A Question of Scruples, Jumble in 1988 and To Tell the Truth in 1990. The show's rights were then sold to NBC with Gordon Elliott, then Lynn Swann and Alex Trebek later hosting. Kline's TTTT pilot did air on the East Coast as a mistake on September 3, 1990, the day the show debuted. He also subbed in for Charles Nelson Reilly as a guest host on Sweethearts for a week of shows in December 1988. His game show celebrity appearances included both The $25,000 and $100,000 Pyramid, Super Password, All New All-Star Beat the Clock, and Body Language. Kline also won $10,000 on The $10,000 Pyramid as a civilian contestant in 1974. Kline told SitcomsOnline.com he would like to compete on Jeopardy!.
Kline was married three times. On his second marriage, his wife gave birth to Colby Lila Kline, who herself is an actress. Her birth was mentioned on Monday of Richard's appearance on Match Game Hollywood Squares Hour.
Community content is available under
CC-BY-SA
unless otherwise noted.