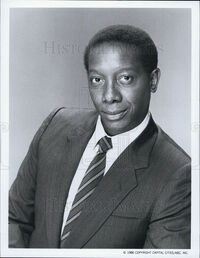 Nathan Cook (born Nathan Earl Cook, April 9, 1950–June 11, 1988) was an African-American Actor. He was best known to TV audiences as Milton Reese for two seasons of the CBS drama The White Shadow and as Billy Griffin on the ABC primetime drama Hotel. He appeared as a frequent celebrity guest on both The (New) $25,000 Pyramid and The $100,000 Pyramid.
Born in Philadelphia, Pennsylvania, a graduate from Penn State University. After he graduated, Nathan was hired as a member of the repertory company at Actors Theatre of Louisville in Kentucky. In 1975, Cook moved to Los Angeles as he pursued an acting career. He got his first big break in 1978 when he landed the role Milton Reese, a high school basketball player on the CBS drama The White Shadow (debuting on November 27, 1978). Nathan left the series after the second season but did return for a guest appearance in the show's third and final season (the show ended on March 16, 1981).
In 1981, he nabbed a short-term TV role of Detective Virgil Brooks on the NBC drama Hill Street Blues until 1982. A year later, he scored his second known notable role to TV audiences: security head Billy Griffin on the ABC Primetime drama Hotel in which he appeared in from the series premiere on September 21, 1983 to the series end on May 5, 1988.
Nathan was also very well known on the game show circuit for his frequent appearances on various game shows including Body Language, Super Password, and both the $25,000 and $100,000 adaptations of Pyramid.
Before he married, Cook was previously in a relationship with actress Alfre Woodard. In 1974, Nathan married a woman named Cara (taking his last name) and they had two children (born in 1984 and 1986).
On June 11, 1988, Nathan suddenly died from a severe allergic reaction to penicillin, he was only 38 years of age. His body is interred at Rolling Green Memorial Park in Camp Hill, Pennsylvania.