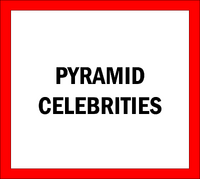 This is a list of celebrities that have appeared on Pyramid.
Aaron Rodgers
Abby Dalton
Abby Elliott
Adam Rodriguez
Adrienne Barbeau
Alan Alda
Alfonso Ribero
Ali Wentworth
Alison LaPlaca
Allan Kayser
Ana Gasteyer
Andre Braugher
Andy Richter
Anita Gillette
Anna Camp
Anne Bloom
Anne-Marie Johnson
Anne Meara
Anson Williams
Anthony Anderson
Apolo Ohno
Audrey Landers
Barbara Corcoran
Barbara Feldon
Barbara McNair
Barbara Rhoades
Barry Gordon
Barry Jenner
Bellamy Young
Bernadette Peters
Betsy Palmer
Bethenny Frankel
Betty White
Bill Cullen
Billy Crystal
Billy Gardell
Bob Crane
Bobby Moynihan
Bonnie Urseth
Brandon Marshall
Brian Genesee
Brian Stokes Mitchell
Brianne Leary
Bridget Moynahan
Cam Newton
Candice Earley
Carol Burnett
Carol Channing
Carole Ita White
CCH Pounder
Charlene Tilton
Charles Nelson Reilly
Charles Siebert
Chrissy Metz
Cleavon Little
Clifton Davis
Cloris Leachman
Cobie Smulders
Connie Francis
Constance McCashin
Curtis Stone
Dara Torres
Daryl Anderson
Dave Foley
David Arquette
David Brenner
David Garrison
David Graf
David L. Lander
David Letterman
David Spielberg
Dawnn Lewis
Daymond John
Debi Mazar
Deborah Adair
Debra Messing
Debralee Scott
Deion Sanders
Denise Miller
Diana Maria Riva
Dick Cavett
Dick Clark
Didi Conn
Dorothy Lyman
Dr. Oz
Ed Begley, Jr.
Edie McClurg
Eddie Mekka
Edward Asner
Elaine Joyce
Eric Decker
Erika Christensen
Erika Elenia
Erin Andrews
Erin Foster
Fannie Flagg
Francesca Roberts
Fred Grandy
Fred Willard
Gabby Douglas
Gary Burghoff
Gary Cole
Gary Frank
Garry Moore
Gayle King
Gene Rayburn
Geoff Edwards
George Hamilton
George Stephanopoulos
Gladys Knight
Godfrey Cambridge
Greg Morris
Gwen Verdon
Hal Linden
Harry Anderson
Harry Rhoades
Harry Waters, Jr.
Heidi Bohay
Henry Polic II
Howard Morton
Ice-T
Ilene Graf
Italia Ricci
Jack Carter
Jack Cassidy
Jack Klugman
Jackee Harry
Jamie Farr
Jason Alexander
Jay Hammer
Jayne Meadows
Jenna Fischer
Jennifer Lewis
Jennifer Nettles
Jenilee Harrison
Jenny O'Hara
Jerry Stiller
Jess Walton
Jessie Palmer
Jill Whelan
Jimmie Walker
Jimmy Baio
Jo Ann Pflug
Jo Anne Worley
Jo Marie Payton
Joe Garagiola
Joel Brooks
Joel Grey
Joey Fatone
John Forsythe
John Gabriel
John Michael Higgins
John Ritter
John Schuck
Johnny Weir
Jon Lovitz
Joshua Morrow
Joy Behar
Joyce DeWitt
Judge Judy Sheindlin
Julie Bowen
June Lockhart
Justin Hartley
Justin Long
Justina Machado
Kal Penn
Kate Flannery
Kathy Najimy
Kaye Ballard
Kelly Osbourne
Ken Jeong
Ken Kercheval
Ken Marino
Kevin Pollak
Kevin Smith
Kyle Busch
Lance Bass
Lara Jill Miller
Lara Spencer
Larry Blyden
Larry Linville
Lauren Ash
Lauri Hendler
Leann Hunley
Lee Meriwether
Leonard Nimoy
Leslie Jones
Levar Burton
Lisa Rinna
Liz Torres
LL Cool J
Lois Nettleton
Loretta Swit
Lucie Arnaz
Lynn Redgrave
Marc Summers
Marcia Wallace
Judge Marilyn Milian
Marla Gibbs
Margaret Reed
Margaret Cho
Mario Batali
Mario Cantone
Marion Ross
Markie Post
Martha Smith
Martha Stewart
Mary Ann Mobley
Mary Cadorette
Matt McGorry
Max(well) Gail
McLean Stevenson
Mel Harris
Melanie Wilson
Melissa Fumero
Melissa Peterman
Melody Anderson
Melody Thomas Scott
Meredith MacRae
Michael McKean
Michael Rappaport
Michael Higgins
Michael Spound
Michele Lee
Mike Farrell
Nancy Dussault
Natasha Lyonne
Nathan Cook
Nicholas Gonzalez
Nick Lachey
Nico Santos
Niecy Nash
Nipsey Russell
Oliver Hudson
Pat Carroll
Patty Duke (Astin)
Paul Kreppel
Paul Lynde
Peggy Cass
Penny Marshall
Peri Gilpin
Peter Isacksen
Peter Lawford
Phillip McKeon
Questlove
Rachael Ray
Rachel Dratch
Randall Park
Reid Shelton
Retta
Rex Lee
Richard Deacon
Richard Dean Anderson
Richard Kind
Richard Kline
Richard Schiff
Rick Hurst
Rita Moreno
Rob Lowe
Rob Reiner
Rob Riggle
Robbie Amell
Robert Hegyes
Robert Mandan
Robert Walden
Robin Roberts
Robin Riker-Halsey
Rosie O'Donnell
Ross Mathews
Roxie Roker
RuPaul
Ryan Eggold
Rue McClanahan
Sally Field
Sam Melville
Sandy Duncan
Sandy Gabriel
Sara Foster
Sasheer Zamata
Sarah Purcell
Scott Hamilton
Sheila MacRae
Shelley Smith
Shelley Winters
Sherri Shepherd
Snoop Dogg
Soupy Sales
Stephanie Braxton
Steve Allen
Steve Schirripa
Steve Valentine
Stuart Damon
Stuart Pankin
Susan Lucci
Susan Ruttan
Susan Richardson
Taye Diggs
Teresa Ganzel
Teri Polo
Terrell Owens
Terry Crews
Terry Davis
Terry Lester
Tim Meadows
Tisha Campbell-Martin
Tom Bergeron
Tom Dreesen
Tom Reilly
Tom Poston
Tom Villard
Tony Danza
Tony Hale
Tony Randall
Tony Roberts
Ty Treadway
Usher
Valerie Bertinelli
Vanessa Lachey
Vanessa Williams
Vicki Lawrence
Vivica A. Fox
Von Miller
Wayne Brady
Wayne Rogers
Wendie Malick
Weird Al Yankovic
William "Smokey" Robinson
William Shatner
Willie Garson
Yvette Nicole Brown
Zachary Levi
Community content is available under
CC-BY-SA
unless otherwise noted.